SE200 Oil Well Integrated Pump Off Controller Drive
SE200 Oil Well Drives offer sensorless motor control which allows our units to run a rod pump without the use of dynamic braking resistors.
Onboard automatic voltage regulation allows the SE200 Oil Well Drive to efficiently operate rod pumps, even applications that are excessively out of balance.  This is beneficial as the Oil Well characteristics are constantly changing as well as the upstroke and down stroke load requirements. The SE200 Oil Well package is also available with fully integrated pump off control options.  We have designs to incorporate pump off controllers into our packages.
The SE200 Oil Well Pump Off Control units use a pump off controller to interface with the VFD.  The POC uses external devices such as position sensors and a load cell to interpret data from the well.  With a proper setup and programming the VFD will automatically adjust its running state and output speed to achieve the desired set points.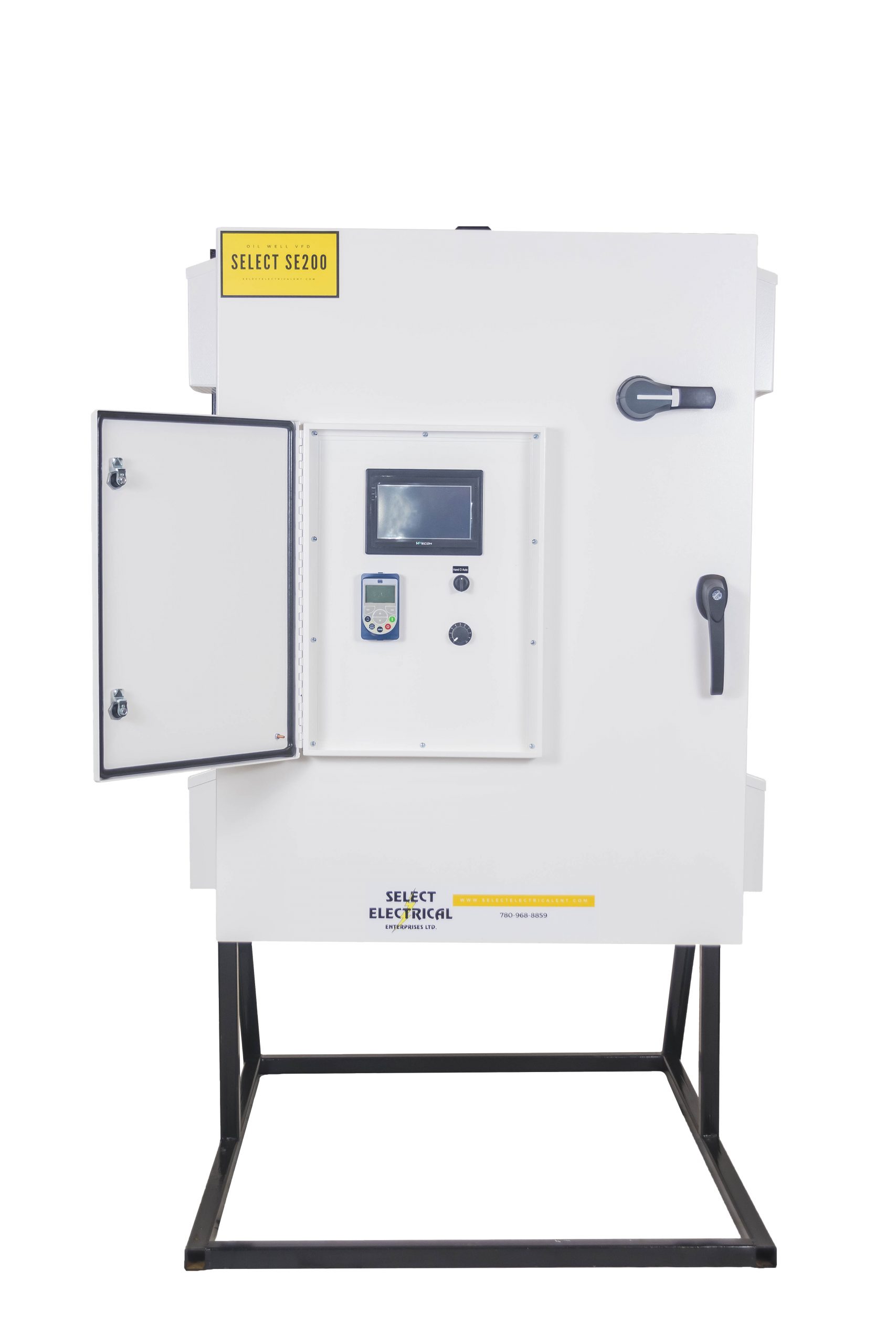 These units can run in different forms of control, the most common form of control is pump fillage set point.
After the pump jack and well info has been programmed into the POC a desired pump fillage set point can be programmed.
The unit will adjust its output speed to achieve the desired set point (if the unit is interpreting a high fluid level in the well bore the VFD will speed up automatically to maximize production, the inverse relationship will occur if the fluid level is low).
We can also program these units to automatically start and stop via pump off state or through a timer control.  These units also have shutdown set points for a maximum or minimum rod load.  A maximum rod load can shut down the unit if a high rod load is detected, this protects the structure of the pump jack, prevents rod parts and can protect the down hole pump.  The minimum rod load can protect the unit from damage in the event of a rod part or seized/failing down hole pump.
There are also many other features with the pump off control units that we can review in further detail.
These units can be used on artificial lift pumping units of any size or model.  Sizing of the units to be based on motor horsepower.
5HP-200HP, 230

/460/600VAC

Manual and Automatic speed control

Manual speed control via door mounted speed potentiometer

Automatic speed control via pump off controller

1 Phase – 3 Phase Incoming Power Conversion

Auto Restart on VFD Faults or well shutdowns

Annunciation of well shutdowns on VFD HMI

Precise speed control

Allows the pump jack speed to be adjusted without requiring the motor sheave to be changed

Automatic timer on /off control available

Strokes per minute displayed on the VFD HMI

Offers power savings when compared to the well being operated with a starter

Reduces maintenance and repair of mechanical equipment

/downhole pump/rod string
SE200 Oil Well Drives can REDUCE energy costs up to 40% over applications without a variable frequency drive. While reducing overall energy consumption and eliminating peak demand charges the SE200 has a short timeline for return on investment.
---
SEEL employees are available 24/7 to provide expertise support.  Whether technicians are required for field support or over the phone support SEEL is here to stand behind our products.  We employ Engineering Technicians and Electricians that have extensive application and field experience and are able to help at any time.
Call Us At: (780) 968-8859