SE200 Gas Compressor Drive
SE200 Gas Compressor Drive has an onboard PLC which allows the compressor shutdowns to be connected directly to the unit.
With our custom programming we can annunciate the individual shutdowns on the VFD HMI.  Custom bypass timers and logic is available to suit each application.  We also have onboard PID control which allows the end user to set a desired set point and the unit will automatically maintain the set point via the external feedback signal.
These units can be used on compressors or pumps of any size or model.  Sizing of the units to be based on motor horsepower.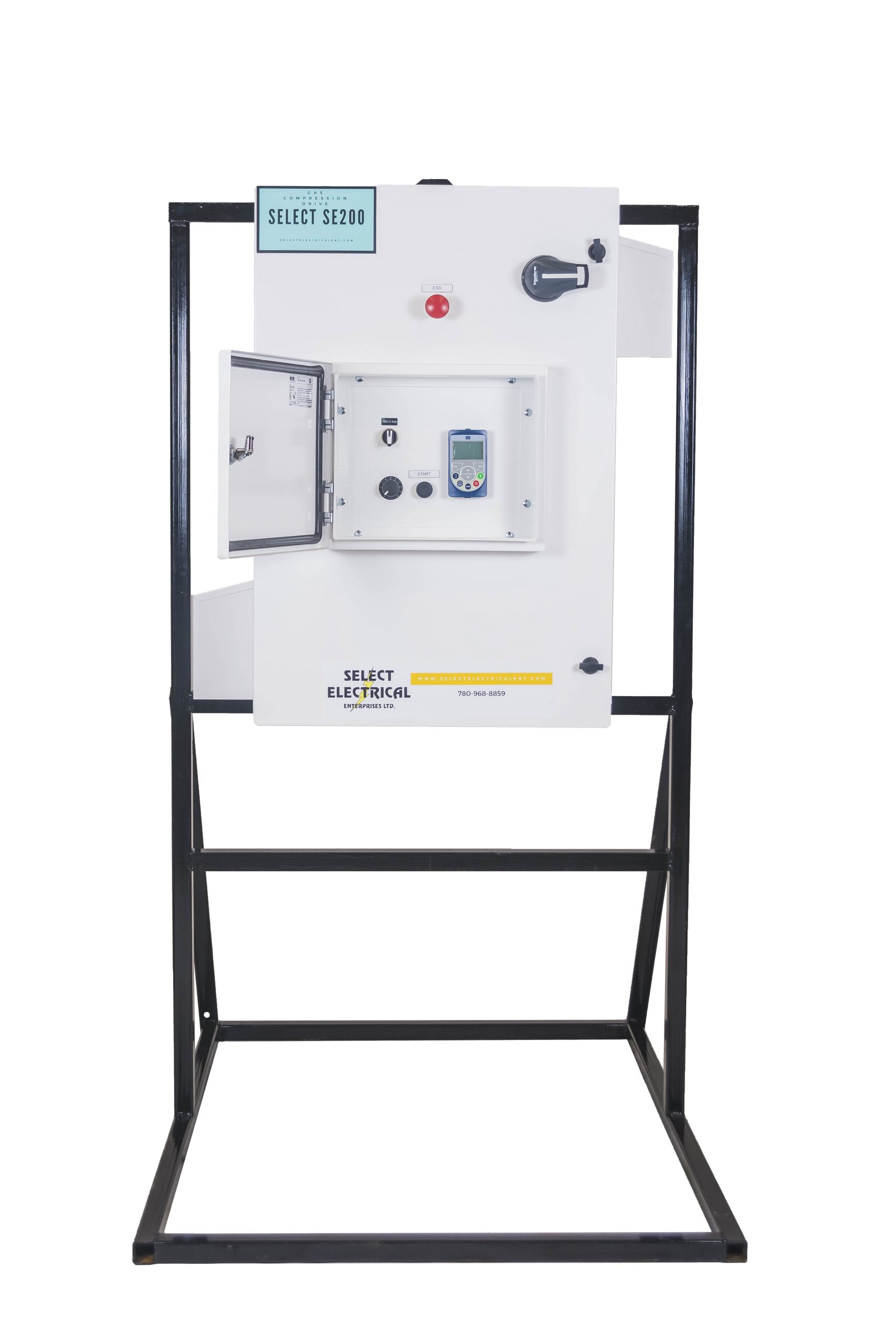 1HP-800HP, 230VAC/460VAC/600VAC

Manual and Automatic speed control

Manual speed control via door mounted speed potentiometer

Automatic speed control via analog input #2 (from external source)

Onboard PID speed control via Automatic speed control mode (PID set point adjustable on the VFD HMI)
Capability to loop power a transmitter for PID control
Customized on board PLC program for all compressor shutdowns (the unit does not require an external compressor shutdown panel)
Provisions for all shutdown devices to be wired directly to the terminal strip inside the VFD package
Adjustable start up bypass timer

1 Phase – 3 Phase Incoming Power Conversion

Auto Restart on VFD Faults or shutdowns

Annunciation of shutdowns on VFD HMI

Precise speed control

Offers power savings when compared to the compressor being operated with a starter
SE200 Oil Well Drives can REDUCE energy costs up to 40% over applications without a variable frequency drive. While reducing overall energy consumption and eliminating peak demand charges the SE200 has a short timeline for return on investment.
---
SEEL employees are available 24/7 to provide expertise support.  Whether technicians are required for field support or over the phone support SEEL is here to stand behind our products.  We employ Engineering Technicians and Electricians that have extensive application and field experience and are able to help at any time.
Call Us At: (780) 968-8859